Image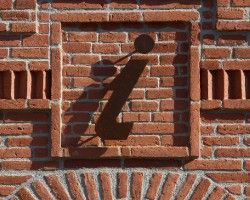 The gateway to the village of La Garriga
 
La Garriga Visitor Center is the tourist Information point of La Garriga and the Montseny Natural Park, from where we offer all the information on the tourist resources and services of the municipality and its surroundings. It is the place where all the itineraries and visits to get to know La Garriga and its stories, come from.
It is the place to stop to find out about all the activities we offer and discover (or rediscover) La Garriga.
MUSEOGRAPHIC SPACE AND SHOP
Here you will find a small exhibition on the evolution of the town from Roman times to the present day, various museographic and interactive resources that allow you to approach the garriguenc heritage in an educational and enjoyable way, as well as three audiovisuals. By visiting the La Garriga Visitor Center, you can taste the heritage that makes it an open-air museum that will not fail to seduce you.
It also has a small space dedicated to shop for objects and publications on the history and heritage of La Garriga.
OLD LAUNDRY ROOM
The building was built in the 1930s, during the Second Spanish Republic, by the architect Manuel J. Raspall. It is one of the few Art Deco buildings, and it was designed as a municipal laundry, where women came to wash clothes with thermal water! 
It later became part of the municipal slaughterhouse complex, and later functioned as a warehouse. It was not until 2011 that the rehabilitation could be inaugurated. Since then, it has been the La Garriga Visitor Center.
TELEPHONE

610 477 823 
EMAIL OF  CONTACT
info@visitalagarriga.cat
CONTACT US

Ask us and we'll help you

LANGUAGES OF THE VISITS

Catalan, spanish, english or french

Other languages, can be consulted

ADDRESS
Carretera Nova, 46 (la Garriga)
HOW TO GET HERE

You can get here by train (10 minutes from the train station), interurban bus (Sagalés) or by private car. 

MEET US
Virtual walk of the Visitors Centre