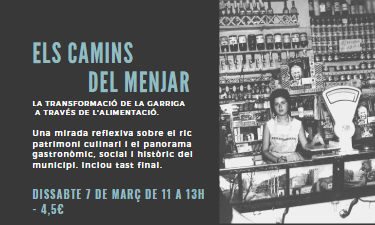 After the success of the latest editions, the Fira de la Butifarra 2019 come back to La Garriga to promote this local quality product. From 9 to 10 March, we will live an event that aims to promote local commerce and the municipality. Starting with one of the most emblematic products of the town - the sausage - you will discover the traditional production of this sausage in the municipality and at the same time a whole range of recreational and cultural options.
Do you join us?
From the Visitors Center we will participate with an activity program at promotional prices.

From the 9th to the 10th of March you can find us at the stand of the Church Square (the Visitors Center will be closed).

You can also enjoy visits with special prices:

SATURDAY, MARCH 9:
Guided itinerary: "Modernism of the bourgeoisie. Architecture, waters and gardens"
Guided visit to the station's antiaircraft refuge
SUNDAY, March 10
Guided itinerary: "El Modernismo popular"
- Guided tour of the station's antiaircraft refuge
Both at 3 € / person. Prior reservation is required at info@visitalagarriga.cat or 610477823