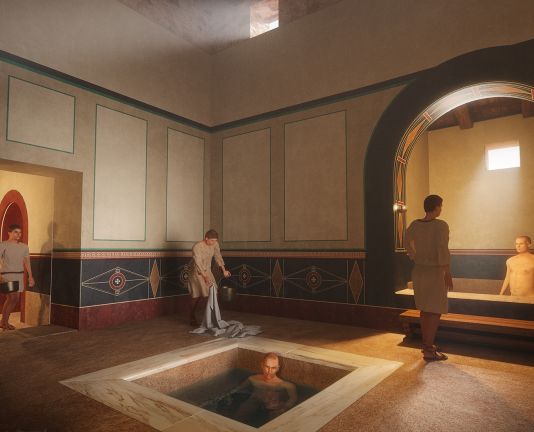 Visites guiades / Itineraris:
La vil·la compta amb una estació d'interpretació i forma part de l'itinerari de descoberta "De l'Antiguitat a l'Edat Mitjana" que pots fer amb les nostres GUIMO (guies mòbils). Una visita diferent, al teu aire i al teu ritme.
Informació i reserves: info@visitalagarriga.cat o bé 610 477 823.
Visites escolars: Consulteu la nostra proposta didàctica per a Centres escolars en l'apartat de Servei Educatiu!
The Garriga's history is linked to thermalism. Surely, the Roman Empire had to take advantage of the thermal water that flowed into what is now the center of the village.
But we have the best representation of Rome in la Garriga in the Roman Villa of Can Terrers, declared an Asset of National Interest (BCIN). You can freely visit the hot baths, stroll through the rooms that their owners used to walk on two millennia ago, and also learn a lot about one of the most important Roman rural settlements in Catalonia.
In the baths of Can Terrers, however, no thermal water was used, but the water had to be heated. The owner family and their friends could enjoy a thermal circuit similar to what can be done today in spas: with a dressing area and hot rooms - even a sauna - to end up in a pool area. of cold water. All in all, thanks to the work of people who would never have access to that water they heated.
More information: