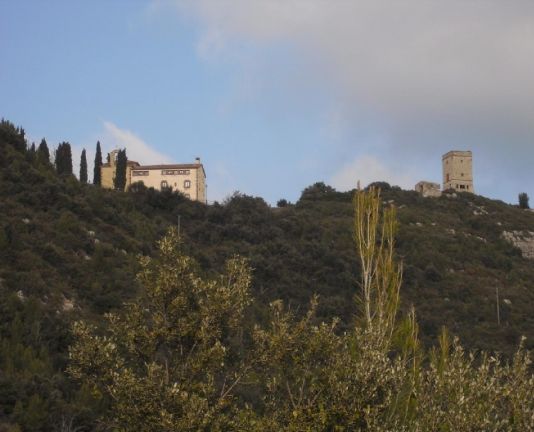 Bicycle part

The layout has a medium difficulty
Vertical signage at intersections will tell you that you are on the right path
It is recommended to wear comfortable walking shoes
Remember to hydrate and protect yourself from the sun
It is recommended to bring water and some refreshments
This walking route begins at the iron bridge on the new road and continues through to La Doma. It rises through the vineyards passing by the Serrat d'Ocata as far as the shrine of Puiggraciós. It then continues by the fountain towards the Can Tripeta pass and along the stony path to Clascar castle. It carries on northwards and converges with the GR5 which takes you to Sant Pere de Bertí church. Once you are here, follow the path into the forest after first climbing over a small crag, and continue climbing up through a very shaded area of dense forest until you get to Homs pass. Here you will begin the descent back towards the narrow La Trona pass, climbing down through the Sot del Bac until you reach Figaró.
Once you arrive in the town you should look for the Vallcàrquera route where you will find the chapel of St Pere. After a steep climb, take a shortcut upwards to the crest of La Creu de Can Plans hill. The path continues to climb gently to the east and leads to Sant Cristófol de Monteugues where you can take a series of shortcuts parallel to the main path which will take you back to La Garriga.
More information: